InsoftDEV has just returned from one of the most successful editions of the LPHCA Road Show event that took place in London, at the Heathrow Marriott Hotel on 1st of October 2015. With a vibrant atmosphere and a record breaking number of participants, it was an amazing experience for all present parties. The 2015 event gathered big names from the Private Hire & Taxi Operators industry and also start-up businesses such as InsoftDev. Every company had the opportunity to present its products and services in an interactive manner and got to know its direct competitors, customers and future business partners. The team representing InsoftDev has made a KO move with their stand and different approach. With the motto "We can beat Chuck Norris", we have managed to spark the visitors eyes, generate interest in us and what we're doing, meet new potential clients and partners. It is a small yet important step in the development of a start-up company to be present at such important events. And 2015 LPHCA Road Show was the perfect occasion to talk about the recent OTDS (Online Taxi Dispatch System) version release and the future plans.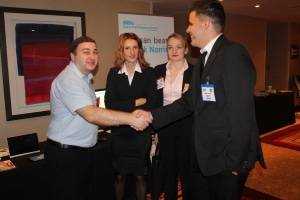 The effort was a killer but it led to successful results. This means that if you did not get the chance to visit the InsoftDEV stand at this edition you can definitely do it next year.
The Director Ionut Rascanu, has taken the time to answer some questions regarding the whole atmosphere of 2015 LPHCA Road Show from the perspective of an events newbie:
1. Were you expecting for your presence at this event to be such a success?
Honestly, the simple participation to an important event was great. The fact that people were open to discussion and showed interest in our stand was amazing. We made a lot of connections and also received precious feedback.
2. What was it like to take part to such a big event?
It represented a huge step and a substantial financial effort, but it was worth every pence. InsoftDev wants to be heard and we made that happen with our out of the box presentation.
3. How can anyone beat Chuck Norris?
The answer is quite simple: team work. Here, at InsoftDEV we have bright and creative employees that made a great piece of software. The OTDS beats Chuck Norris at tracking, communication system, monthly pay offs and more. And more, it helps any minicab company eliminate its competitors from the private hire market.