How to setup/manage dispatching rules – manually
Dispatching rules can be deployed manually or automatically. In order to perform this action manually, you first have to access the "Dispatcher Management" option in the "System" sub-menu (fig. 1). To use the manual dispatching engine, you have to make sure the "Enable Automatic Dispatching Engine" button is not activated (fig. 2). If the automatic dispatching is enabled, it will have priority over the manual dispatching. After that, you have to open the "Manual Allocator rule" list from the "Configurations" area (fig. 3). In the "Manual Allocator rule" field you can edit what the dispatcher will see when allocating a driver to a booking. You can make visible only drivers with certain car types, select a maximum number of drivers in the allocating list, sort them by certain parameters and even perform checks on them by checking the desired inputs. Make sure you have clicked the "Save" button so your configuration is updated.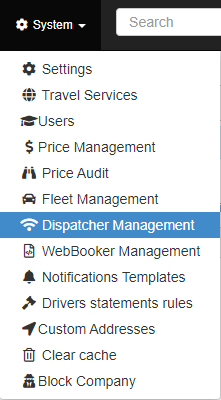 Now, when you go to the "Bookings" page and select one booking to allocate a driver to, you will notice that the settings configured in the manual allocator area are enabled.