For those who haven't yet registered for this year's IM World Event, hosted by Romexpo Center in Bucharest on 7-8 of October 2015, it is yet not too late. IM World is the most important B2B event in Romania dedicated to digital, mobile and software solutions which gathers famous international speakers from all around the world, dedicated seminars, interactive sessions and workshops for top management audience. This kind of events offer many opportunities for IT specialists and for companies to interact and develop new and strong partnerships in the field.
Last year's event in figures and numbers points out that 6500 participants were present at IM World 2014 and 110 companies have exhibited their innovative solutions. The prices for renting a booth of 6 square meters started from 1150 Euro plus VAT. 120 speakers, from which 30 international, have expressed their opinions and their beliefs about the innovation brought by the new digital world.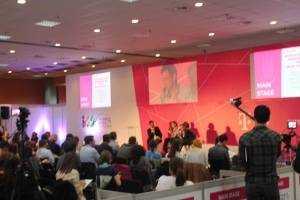 The structure of 2015 IM World Event comprises 4 content stages: the main stage, Business Software & Infrastructure, Developers and Digital Marketing& E-commerce. As a visitor you can interact with new technology in 5 networking areas: Innovation and Gadgets area and other 4 thematic networking points. The exhibition area is structured in 4 main sectors: Business Software &Infrastructure, Marketing & E-commerce, International Institutions and Start-ups. The theme of this year's event is: 'Save a spot in the digital district' and features the necessity of the new world for leading IT technology.
Among this edition's most innovative gadgets you will see: the solar charging tree, the Echo Phone, the Pocket Quadcopter, 3D printers, the cordless harp and many others.
The Romanian team of Insoftdev, a leading provider of It solutions for the Transportation area, will also be present at this offering IT trade event and if you want to have a short chat about our innovative solutions, to discuss a possible partnership or just say hello to us, you can contact us in order to appoint for a meeting with one of our branch Managers at IM World 2015 Bucharest. Our contact email address is: office@insoftdev.com and our contact phone number is : +44 (0)2031 500 250. For more details on our work just visit us online at: www.insoftdev.com