How to manage the travel services
  Managing the travel services is an important procedure that can be handled in a simple manner in the Backoffice application. First, you have to access the "Travel Services" option in the "System" sub-menu (fig. 1). The "Travel Services" page contains a list with all the travel services configured inside the Backoffice application (fig. 2). In order to create a new travel service, you have to press the "ADD NEW SERVICE" button. Clicking the button will reveal a window on the right side of the page, containing means of configuring your new service (fig. 3). The travel service window holds inputs that are separated in four main areas: "Pick up", "VIA", "Drop off", "Booking form". 
Below is a short description highlighting the functions of all the areas inside the travel services editor: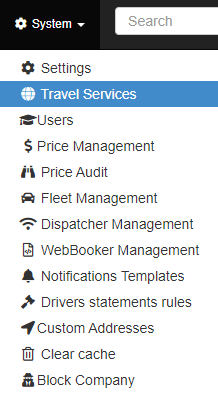 Pick up, Drop off – you can pre-set the pick up and drop off points (make them editable or not), select the operational zones for the pick up/drop off points, select the geolocation engine that is used for autocompleting the pick up/drop off inputs when creating a booking. Strictly for the "Drop off" area, you can also select restricted areas for drop off.
VIA – select the operational stop zones and the geolocation engine used for autocompleting the VIA inputs when creating a booking.
Booking form – add the available car types for the service, the default car type, extra charges and extra fields.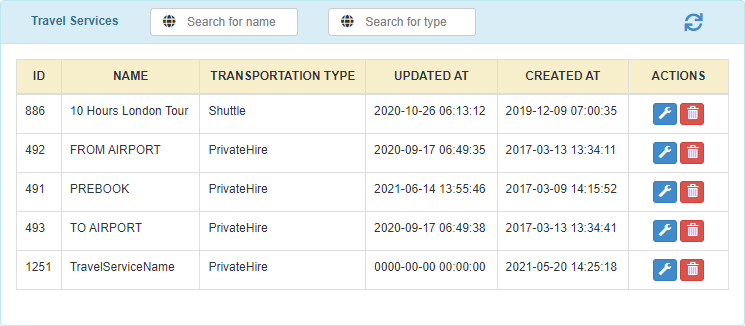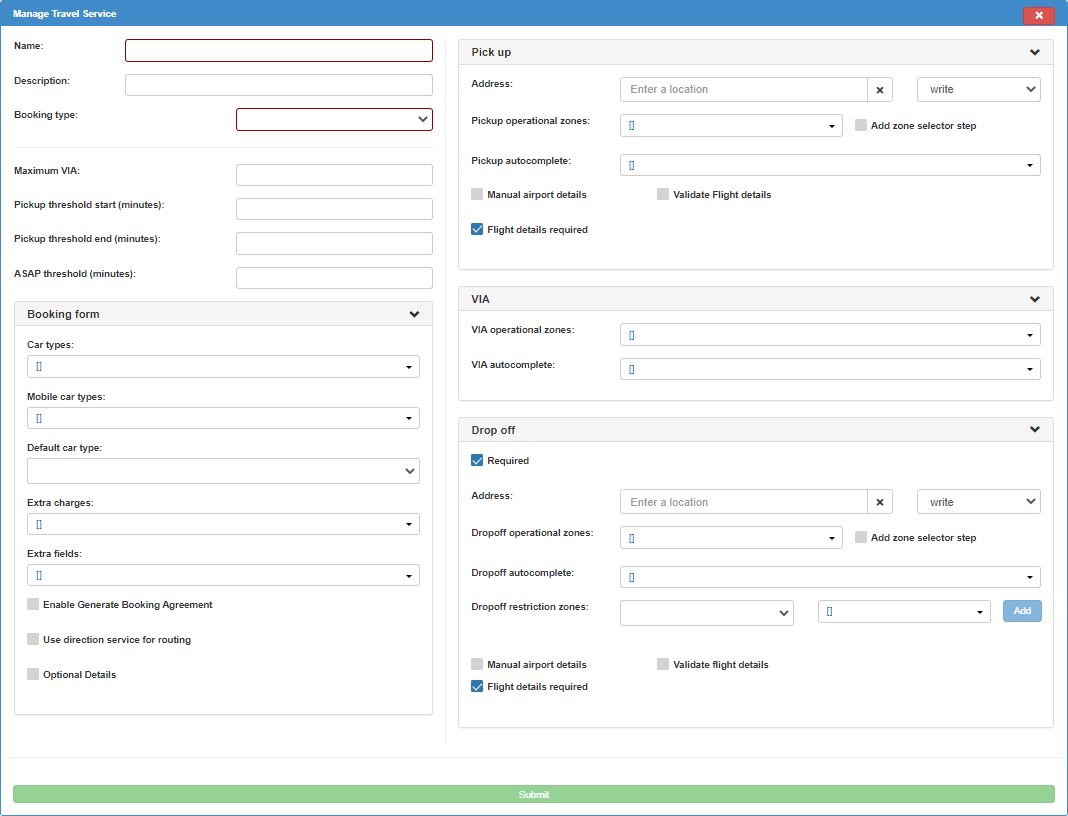 Click the "Submit" button once you have fully configured your travel service. Now, when creating a new booking in the "Bookings" page, if you select the booking type you have assigned the travel service to, you will see your newly created travel service among the other options. To edit or delete your service, use the buttons available in the "Actions" column of the list (fig. 2). Hover over them to see their functionalities. As a particularity, when deleting a travel service, you have to give a fallback travel service to which the bookings will be redirected (fig. 4).