How to manage invoices history
The application makes invoice management easy to handle. First of all, you have to access the "Invoices & Statements History" option in the "Utilities" sub-menu (fig. 1). The page is a list with filters to help you refine your search. You will also notice that the invoices are coloured differently according to the legend located on the top-right of the page (green – paid, red – overdue, yellow – pending) (fig. 2). The page is separated in three categories, each having its own list (Driver Invoice, Client Invoice, Company Invoice) (fig. 3).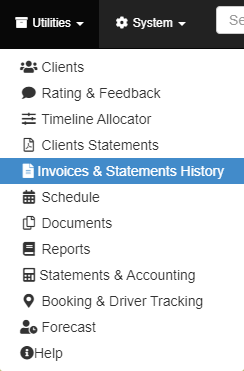 Each item in the list has four buttons in the "Actions" column. Hover over them to see their functionalities. There is the "View" button which you can use to see the invoice (you can obtain the same result by double clicking the list item), "View invoice logs" to see all the actions performed on the invoice, "Download" and "Delete" which are self-explanatory.